Well, it's been really quiet on this little blog of ours lately. BUT the week of our half marathon is finally here!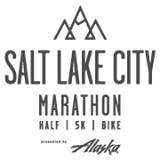 I've been really pleased with how my training has gone for this race. I'm on week 12 of running 100% healthy. This hasn't happened for me in years. I have had problems with my left foot since a stress fracture high school that has always started acting up the second I get serious about running again. But this time around I have had ZERO foot pain. I credit this to practicing yoga twice a week along with taking 1-2 rest days per week.
I am so excited to see what I am capable of during this race. If I break 2 hours, great. If I don't, I'll still have a blast, learn a lot about the half, and continue to chip away at my goals in the future.
Jordan has been so busy between work and school that I don't think he got in as much training as he would've liked. He did get some good long runs in though and I believe he will do a lot better than he thinks. I hope he enjoys the experience so he will do another one with me in the future. 😉
I have to say though I'm feeling a little lost now that training is coming to a close. What will I do next? Is it too soon to sign up for another? Will I stay motivated without having a plan to follow?
Hopefully in coming posts I can answer these questions. I also hope to start taking more pictures for the blog and post a little bit more. But for now I'll be back after this Saturday with a full race recap!
Happy running!
-Megan